Shopping Cart
Your Cart is Empty
There was an error with PayPal
Click here to try again
Thank you for your business!
You should be receiving an order confirmation from Paypal shortly.
Exit Shopping Cart
FIELD DAY WILL BE POSTPONED! Unfortunately, despite the beautiful morning, the park is too wet and muddy for us to run around on and have a good time. There is plenty of paved areas but we felt it wouldn't be safe for everyone to play relay games on. We had someone go out there this morning to check it out and it seems like it will not work for our purposes this time. However, we plan on rescheduling Field Day for sometime this summer. I will be posting more information on that soon. Sorry for any trouble. Hope you all have a great week.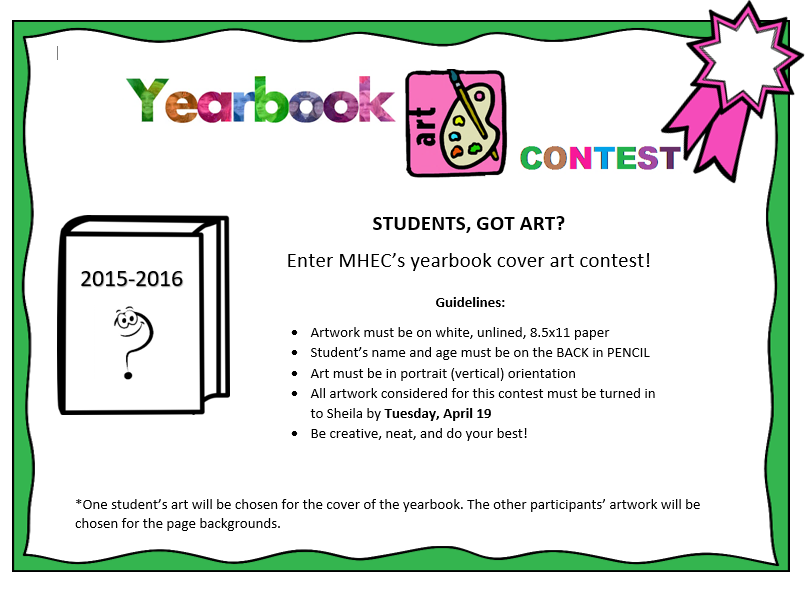 Hi folks!
To help us keep moving as we change classes, please make sure that you set your cell phone clock to alert you 10 minutes before your class ends. This will allow helpers to begin the shift to their other classes (especially if they are teaching!) and it will also help you keep track of those critical last minutes of class, so that you don't run late. I know that we all have amazing classes full of great ideas, and being on time helps everyone provide the most awesome-ness possible in a one hour class.
*** You might also find it helpful to print the schedule for classes, especially if you're new (it's under "files" on our FB site).
This is the tentative scedule for Storytime with Art
Week 1: THE SNOWY DAY---we will make snowflakes
Week 2: SNOWMEN AT NIGHT--- chalkart snowman
Week 3: MY HEART IS LIKE A ZOO--- heart shaped lion
Week 4: Goodnight Moon---window looking at the moon
Week 5: THE VERY HUNGRY CATERPILLER--- egg carton caterpillers
Week 6: HORTON THE ELEPHANT SITS ON A NEST--- paper nest with egg
Week 7: THE EASTER EGG---egg wreath 
Week 8: CORDUROY--- Corduroy paper plate
Week 9: THE RAINBOW FISH---celery stamping (I will be using celery sticks, so if this is an issue let me know)
Week 10: (I'm looking at a few options for Earth Day/recycling books). Our art project will be something to repurpose.
Week 11: ELMER ELEPHANT---sponge painted Elmer
Week 12: GUESS HOW MUCH I LOVE YOU---Sorry not gonna tell, it's a Mother's day surprise
HELLO THERE, AWESOME!
Today is a great day to pay dues early! $130 for returning families and $130 + $20 application fee for new folks! You'll want to include any class fees that relate to your kids, also (noting in the description area). PayPal is quick and easy (send money to friends/family option please, [email protected]). If you'd like to send via check, you can snail mail to Jeanie Whinghter. 
If your New Years Resolution is to pay co op dues early, you'll be able to relax, knowing that you don't have to 1) hit the gym, 2) go on a diet, or 3) stop wearing yoga pants in 2016. Win-win.
Fundraisers 1 slot remaining
Trisha Fyfe
Anne Cazalas
Jeanie Whinghter
Field Trips Full
Andrea Simmons
Jenny Freehardt
Jana Grayson
Scrubs Full
Jen Jackson
Heidi Anderson
Yearbook Full
 Alecia Sanford
Angela Lewter
Laura Bolin
Sandy Sparks
Lindsey Rowland

Invention Conv  8-Mar  2 slots remaining
Leslie Bennett
Alicia Wood
Sara Jenson
Egg-o-nauts 12-Apr  1 Slot remaining
Tammy Carlton 
Lindsay Horner
Talent Show 7-May  Full
Mandie Huber
Beth Barnett
Emily Toney
Tanji Johnson
Shay Blackford
Kasey Cordell

Field Day 10-May Full
Tom Adams
Mary Enoch
Nora Hayden
Leslie Black
Members Unassigned: 
Linda Knipple
Tiffany Monsen
Janet Hall
Miki Skeen
If your name is on the list of those who have not yet been assigned to a committee and I have not heard from you, please take a moment to check your email and get back to me. I promise it only takes two minutes. Also, please check over this for errors
Thank you all so much for your continuing commitment to making our co-op the fantastic success that it is. We couldn't be this awesome without all of our fabulous members. You ROCK!
Reminder: Class desciptions need to be emailed to [email protected] by Tuesday. I have already received quite a few. Thank you!
On Tuesday morning I will park my truck in the main parking area with my hatchback open and all the seats down so that everyone can just load their dishes in for one of us to take to the kitchen. Pastor Andy is hosting a breakfast in the gym that morning so we will not be able to use the gym as a path to the kitchen. If you have instructions for your food, like 'keep refrigerated' or 'put in warmer', please write that on your dish with a sticky note or sharpie or whatever lol Oh and don't forget to include the ingredient list.

Hopefully this will make things easier for everyone and our morning will run smoothly. If you have any questions about the potluck, contact Beth or Heidi
 

Thank you for coming to our Parent Planning Meeting last night. It went well and I am very pleased with how the schedule looks so far. You make my job easy. We will be having our open house on 11/17 and completing any registration with that and then I will be sending out the voting for classes. Before that can happen though, I need everybody's class descriptions. Usually it works better if you write them up and email them to the co-op email ([email protected]) than if I write up what I think your class is going to be. I need this emailed prior to 11/17, the earlier the better. Thank you everybody!

Hello Co op folks!

I know you're probably wondering "when can I pay my dues? I'm sooo ready for Spring!" The good news is that you can pay anytime, however they are not due until January 5, 2016. Dues will remain the same ($130 per family). If you have a Tot that will be snacking, you'll need to add $5.

**NEW and improved*** If you have an Explorer, we will also be providing snacks - a fee of $5 will apply. 

You can make a check payable to MHEC and give it to me (or snail mail). If you prefer Paypal, please make sure you "send money to friends and family" when paying; noting your family name will be handy in the comments section. 

Thanks for making our Co op awesome!

Jeanie

0

/